The World's Worst Stock Market Is Not Cheap Enough to Buy
Regular
Asian Market
7 months ago
132
For some Philippine money managers, it's still too soon to scoop up shares in the world's worst-performing stock market.
As the Philippine Stock Exchange Index dipped below 7,100 during Tuesday's session, taking its valuation to its lowest level since January 2016, Metropolitan Bank & Trust Co. is among the firms that's staying on the sidelines. John Padilla, the head of equities at the money manager, says he's too concerned about the high inflation level, rising oil prices, weakening peso, increasing interest rates and drying up liquidity.
"Everybody is bracing and positioning for a higher inflation, and with oil continuing its climb there isn't anything to say that's enticing to go bargain hunting at this point," said Padilla, who helps manage 450 billion pesos ($8.3 billion). "It used to be that a buy-on-weakness strategy works, but now for prudence it's better to step aside and let the market take its course."
The Philippine Stock Exchange has plunged 17 percent since the end of December, becoming the world's biggest losing equity market and taking its valuation to 15 times estimated earnings for the next year, below its five-year average. The gauge fell as much as 0.5 percent to 7,095.26 on Wednesday.
The recent sell-off from emerging markets and U.S.-China trade frictions only added to worries over the nation's headwinds. Overseas investors have withdrawn almost $1.6 billion in 2018, exceeding inflows from the past four years.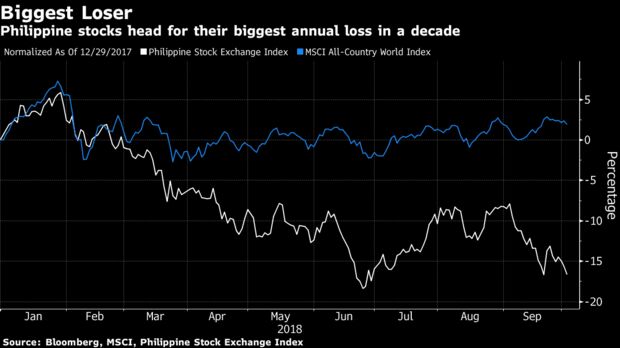 Padilla said it's not improbable for the Philippine stock gauge to fall below 7,000 in the near term and that it could go as low as 6,600. He said his firm will change its underweight call on the equities should consumer prices, the peso, interest rates and liquidity show improvements. September inflation data are due on Friday.
"You can get a better return with your cash in time deposit now rather than exposing it to equities, where at best you get a flat return but run the risk of losing part of your money if you buy the wrong name," Padilla said.
Steven Ko, who helps manage 60 billion pesos at Rizal Commercial Banking Corp., sees further risk as limited. While the benchmark index may drop to 6,900, he says there's also a chance it could climb to 8,000 this year as sentiment improves. He expects inflation to peak and says the peso may have already seen its sharpest depreciation this year.
"We are still holding on to our cash, but we are selectively buying some of the oversold names that are already worth looking into," Ko said. He favors property stocks because he sees higher earnings-growth prospects and likes banks as he deems them unduly hit by the rout.
Source : Bloomberg
---