Rupiah Weakens Past 15,000 per Dollar for First Time Since 1998
Regular
Asian Market
7 months ago
152
Indonesia's rupiah weakened past 15,000 per dollar for the first time in 20 years amid a souring of sentiment toward emerging-nation assets and concern about the nation's widening current-account deficit.
The rupiah dropped as low as 15,009 per dollar, the weakest since the Asian financial crisis in July 1998. The currency has fallen more than 9 percent this year.
Indonesia's currency has tumbled even as Bank Indonesia intervened in financial markets and
raised interest rates
five times since May to limit the selloff. Sentiment toward the nation's assets has worsened amid concern a current-account deficit leaves it exposed to the financial turmoil that has afflicted Turkey and Argentina.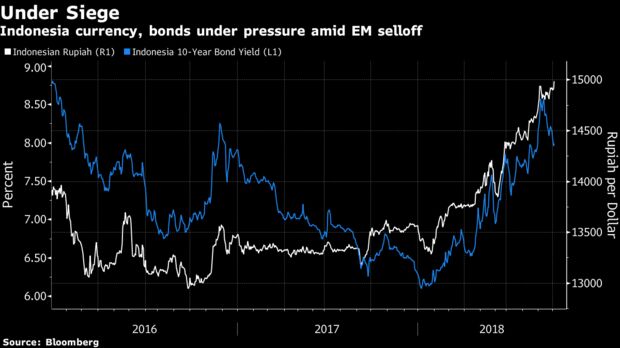 "Rupiah weakness had been a function of the poor sentiment swiveling within emerging markets and Indonesia's own vulnerabilities," said Jingyi Pan, market strategist at IG Asia Pte in Singapore. "It does appear that the selling has been sentiment driven to a large extent, and it could take both a blowing over of the emerging-market concerns and an easing of trade tensions to aid the change."
Bank Indonesia has announced the introduction of domestic non-deliverable forwards, which it says will provide an alternative for companies wanting to hedge dollar exposure and help reduce rupiah volatility. The move is seen as complementing the government's steps to bolster exports and curb imports.
Indonesia is close to finalizing incentives for exporters holding billions of dollars in banks to encourage them to convert the funds into rupiah, as the central bank steps up efforts to shield the local currency from a global emerging market rout.
Source : Bloomberg
---